Dear Friends, Family and Colleagues,
I know that we all have felt stretched by fundraisers. This is also a request for funds, with gifts offered in return. Please allow me to explain this important, personal project.

Approximately six years ago I was approached about painting a mural for the Owatonna Arts Center. It was a great honor to be asked to do this for my hometown Arts Center as Owatonna has no shortage of good artists and it has a beautiful center.
Many of you have seen this painting on ceiling of the library room of the Owatonna Arts Center over the past five years. There are ten panels yet to be painted, five are complete so far. These will extend from the ceiling to about four feet down the wall. Shortly after the ceiling portion was done, financial limitations brought the work to a close. Regrettably, I could not complete it.
But now I have some good news! I have found Hatchfund.org and they have agreed to carry my project to help raise funds for this very mural! They will showcase the project, collect the pledges, and keep an account of your tax-deductible donations. You can visit their site to view the mural progress or to track the pledges received.
I must reach my goal of $2,500 in order to receive the funds. My campaign will close July 31. Much of the work on the panels is already done so the mural will be ready for the grand unveiling this coming July.
Will you consider supporting me? Every bit counts and I need to get some pledges up there. There are some perks that will make your pledge more of a purchase than a gamble. You can see them at the Hatchfund site.
Since posting these, I have thought of another. The first person to donate $1,000 will get the same gifts as a $500 donor and that person can choose what will be on the cover of this girl's book. This part of the mural will be in a prominent, central location and will be seen often by visitors coming through the Arts Center doors. It can be almost anything except, of course, profanity or adult images. You will have a part in it but I will exercise my right to arrange the cover to best suit the rest of the mural.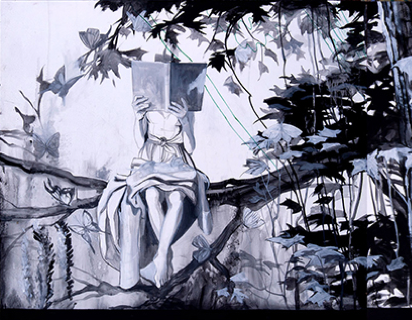 Thank you so much for your time and consideration and I do hope you will help to make this campaign a success! I also hope you will mark your calendar for the unveiling of the complete mural on July 31. I sincerely appreciate your support.
Yours, Lynette Yencho