So getting back into it is fairly intimidating. The panels look so small when installed but here in my little 10'x15' painting studio, they seem huge! But once I get started, I am much happier.
Those are just the ones in the hallway, I have more in the studio. I have just roughed out the globe that was requested by a donor who is also a geography teacher. Thank you!. I thought it would be nice to have next to the Egyptian column, even though I intend to show the west with the Americas.
I am keeping it close by the panel it connects to (behind). They will need to have the images flow from one to the next and treating them as one is the best way to do it.
Here is the connecting panel:
May 1, 2016 THE DRAGON AND ME
There is a self portrait on the ceiling. It is not finished. I was trying to use it as a metaphor saying "I'm not done yet". And that is actually true. There are ten more panels to do for the walls and they have been sitting around my house waiting for some funding or time to do it. So, I get a request from the Artistic director. He says, "perhaps on the wall you can do yourself again, nicer?". I hadn't planned but then of course, there was another one to request the same, my mother. So, I am painting myself again, five years older. At my age, every year counts so I will be 63 in this image. They want a "nicer" image of me. There is the challenge.
This should be easy enough, but I have seen the Alice Neel show and my painting has not been the same since. I found her honesty to be disarming and realized that if I was going to be any kind of fantasy painter at all, I would have to start looking at things as they are. So I am painting myself as a crusty old lady that I am.
I was going to paint myself as a wood nymph on one of the other panels but there was room next to the Chinese dragon and it felt good.
May 11, 2016
I have been straddling the mural and the promotion of it lately. It all works quite well to work on the mural until I am physically tired and then on computer stuff (promotion). My neighbor came over to discuss helping me with house cleaning and she brought over some of her "Good Ass Beer" while we discuss what needs to be done.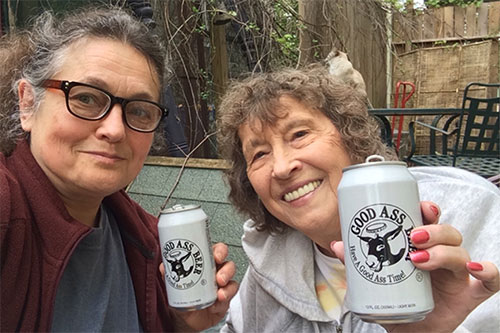 I would have her do my marketing but I don't think I have the budget!
So today I have blocked out some color for the side panels. This is the panel that will have some promotion. The first person to donate $1000 will have a say in what goes on her book cover plus perks for $500 donation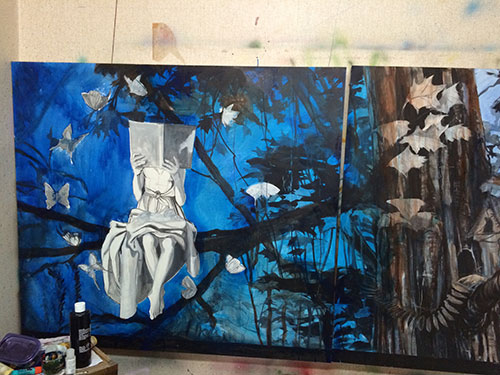 More color block out: